The villa is located directly by the beach and is only ten minutes distance from lovely Lovina. During your stay in this beautiful villa with its hospitable staff you will feel like you are in a paradise on earth:
Facilities
Spacious and stylish living room with comfortable sitting area and dining table
Fully equipped kitchen
Three spacious bedrooms with built-in closets and en-suite bathrooms
All bedrooms are equipped with air-conditioning
Separate toilet in the hall
Safe
Covered patio with two fans, seating area and large dining room
Beautiful tropical garden with pond
Swimming pool, outside shower and comfortable deck chairs
Rest house (Bale Bengong)
TV (BVN), Radio, Telephone, DVD, CD
WiFi (free)
Large selection of books and board games
Washing machine and dryer
Laundry and ironing service
Bed linen and towels
Staff: Housekeeping, garden and pool boy, security
English speaking help desk
The staff
In Bali it is customary to have staff and Bali Paradise Villa is no exception with staff who know how to be unobtrusive in order to give you full privacy. All staff members speak reasonable English and are present 6 days a week to pamper you.
Komang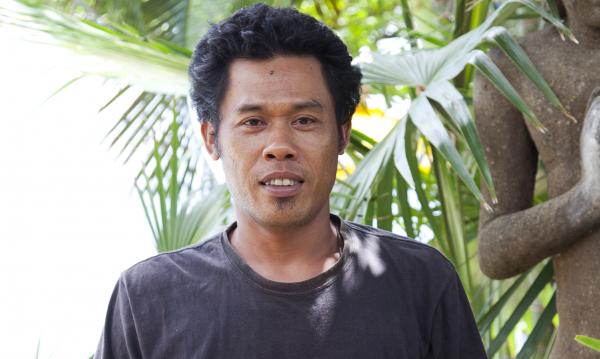 Komang takes care of the garden, the swimming pool and odd jobs in and around the house. Early in the morning he will prepare the swimming pool so you can enjoy a swim undisturbed.
Made and Iluh

They provide the food, keep the house tidy and do the laundry and ironing. The house is kept clean during your stay and also after your departure so both you and the next visitor will find the house in pristine condition and if you indicate that you would like something to eat, they will be happy to prepare it for you. The first day we have arranged food for you and you can get groceries in Lovina or have that taken care of for you for the rest of your stay. Komang and Rani have knowledge of the Balinese cooking and can prepare a delicious meal for you but we also have an extensive menu in our Villa from which you can choose.
Driver

You will most probably arrive at Denpasar airport. If desired, the driver; Jaya will come to collect you and will be in the arrival hall of the airport at the agreed time holding a sign with your name on it. He will then take you to the Villa with your luggage, which should take around three hours. The price for this service is € 49.00 (650,000 roepia). If desired he will also take you back to the airport when it is time for you to leave.
Jaya is also aware of all places of interest on Bali, knows how to get to them and can show you the most fantastic spots. So you can always approach him for all kinds of trips on the island during your stay.
You can also opt to drive yourself in Bali but this can be a challenge. The driving style is different to what most of us are used to. The costs for renting a car as well as the petrol must be covered by you but the price will not be the issue; the cost of a day driver, car and petrol is about € 40.00. For shorter distances renting a scooter is ideal as the costs are very low and it gives you a great sense of freedom.
Ella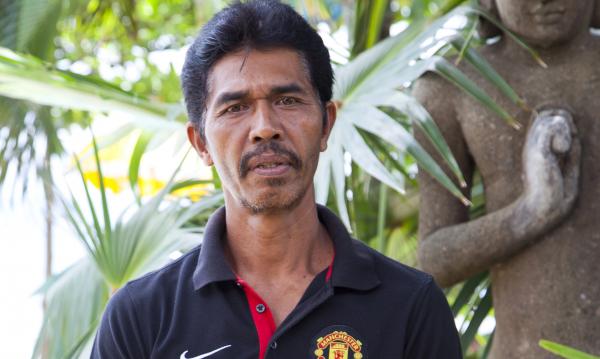 Because it is custom in Indonesia to have security, Ella works from 19.30 hrs to 07.00 hrs in the morning. He is unobtrusive on our site and, if desired, Ella can babysit your child/children every now and then if you want to go out for dinner with adults or do something else. Experience has taught us that children, especially around the age of 8-15 years, enjoy chatting with Ella, playing games and exchanging some English/Indonesian words so you can go out and feel at ease that your children are in good hands.
Help desk
During your stay you can go to Rani for information, who will gladly help you with any questions regarding trips, massages, scooters or bike rentals etcetera. She arranges drivers and trips to see the dolphins as well as taking care of registration with the tourist police. In case of illness, she can call a GP or dentist.
Massage
On request, Nur will come to our villa to provide a fine and extensive massage. She has a lot of experience and will treat you for over an hour. The costs are approximately €8.00.
Doctor
We have good arrangements with the very capable GP, Dr. Handra, and if necessary can contact your own GP as well, so he is aware that there are guests on a regular basis in our house. If required, he can make house calls and it is also possible to visit his practice.
Dr. Gede Handra, Jl.A Yani/Bukit Indah 1, Banyasri Singaraja,Telephone 0362-23798
Mobile 0812 3605733
At this address he has his own practice from 07.00 to 09.00 hrs and from 18.00 to 21.00 hrs, 7 days a week. You can always reach him on his mobile for emergencies. Dr. Handra is also the director of the local hospital: RSU, Kertha Usada, Jl. Cendrawasih no. 5, Singaraja, Telephone 0362-26278
Live like Gods in Bali, so......
The cost of living in Bali are very low, a delicious dinner out for four can easily be done for € 20.00 and there are many excellent restaurants, particularly in Lovina, and the busier Kuta to the south is mainly suitable for cost-effective shopping. But after a busy day you can return to relax in the quiet, cosy North.